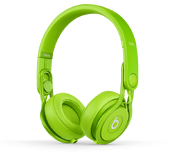 Beats Mixr Edit
The Beats Mixr are a line of headphones aimed towards DJs and audio producers. They were created by David Guetta in partnership with Beats Electronics, and released in 2012. The Beats Mixr have rotative ear cups, making listening to music with only one ear easier.
Beats Mixr
Launch Price

(US Dollars)

$249.00
Release Date
2012
Colors

Original Colours: Black and White
Colr Mixr: Blue, Green, Yellow, Indigo, Sky Blue, Pink
Neon Mixr: Neon Blue, Neon Green, Neon Orange, Neon Yellow, Neon Pink
Ad blocker interference detected!
Wikia is a free-to-use site that makes money from advertising. We have a modified experience for viewers using ad blockers

Wikia is not accessible if you've made further modifications. Remove the custom ad blocker rule(s) and the page will load as expected.