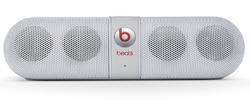 Beats Pill Edit
The Beats Pill (first generation) are a line of portable Bluetooth speakers from Beats by Dr. Dre. The Beats Pill was released in October, 2012.
They are praised to have good sound quality coming in a small package and its unique design. It now has been through 3 genarations.
It came to an instant hit when it came out. Though it has mixed reviews by media. Some praised about its unique design. Some criticized its lack of bass and it's kind of complicated to control the Beats Pill with only one button. Still most people liked it due to the unique design and it's sound signature (Boosted Mid Frequency range for clear vocals). It is made of mostly aluminum and some plastic.
Beats Pill
Release Price

(US Dollars)

$199.00
Release Date
October 2012
Colors
White, Red, Black
Dimensions
Width: 7.5 in

Height: 1.8 in Weight: 10.93 oz

Battery Life
7 Hours