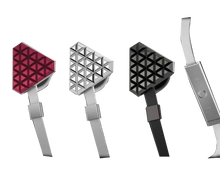 Heartbeats by Lady GaGa Edit
The Heartbeats by Lady GaGa were a line of earphones made by Beats by Dre & Monster Cable, and designed by signer and artist Lady GaGa. The Heartbeats were launched in October of 2009. The available colours were Black Chrome, Bright Chrome and Rose Red.
This product has been discontinued and is no longer commercialized nor sold by Beats by Dr. Dre. In 2011, Heartbeats 2.0 were launched along with Lady GaGa's single, Born This Way.